Meet the Teachers
The boss lady and evil leader – Danielle

Danielle's popularity as a teacher is due to a calm and nurturing approach, use of simple terms and instructions, and a "we can get around this" attitude (she likes to think it's also because you like her singing so much).  Danielle took on the crazy world of running Thread Den, back in 2012, a step taken after being completely and madly addicted to sewing for a dozen years. 
Danielle is keen on sewing with knit fabrics and loves making vintage styled garments from the 1920s through to 1960s.  Her home is very similar to your Nan's, full of old furniture, decor, rugs and treasures.  She is addicted to collecting vintage hats, gloves, handbags, broaches and accessories.  You'll regularly hear her stories about Charlie and Rufus (the cats), Suzie (the Frenchie), Pablo, Snowy, Meg and Judy (the chickens), Georgie and Jack (the kids).
Vintage addict, sewing & crochet teacher – Laura

Laura graduated from Ryerson University in Canada with a degree in Fashion Design. She then explored the world for six years. Having fallen in love with Australia she settled down in Melbourne to pursue her love of fashion.  For years Laura was the designer behind Mina + Oli Handbags, where she sourced beautifully worn-in leather, vintage materials, lace and embroidered textiles to create unique one of kind pieces.  
Laura's obsession for and addiction to vintage, thrift and op shopping has seen her become an expert on picking out the gems from the lemons, as well as storing, mending and saving these treasures.  In 2018 she won the Best Dressed Woman at the Napier Art Deco Festival in this handmade gown which she created from a vintage sewing pattern and styled with her true vintage treasures.  Her specialties also cover sewing with knits, leather and teaching the crochet program at Thread Den.
Hair & Beauty Goddess – Miss Lee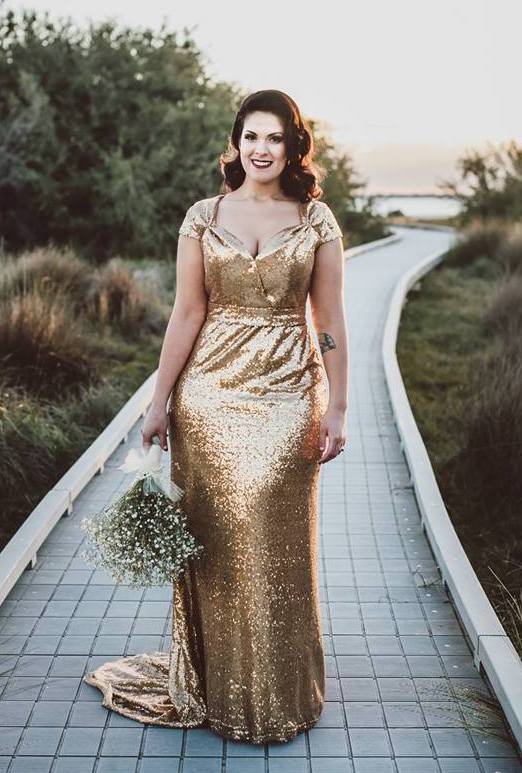 Lee is a retro loving lady who looks like she stepped out of a 1950s Lu-Wow just about everyday of the week.  Not only can you join in one of her amazing workshops to learn the hair and beauty look of many eras, but you can also choose to have her host you for your own private party! Many a group of hen's or birthday celebrating guests has stepped out the door looking utterly gorgeous and ready for an evening out on the town. To read more about our private parties – click here
Funny gal, pattern drafting & sewing teacher – Jenni
Jenni's super powers come from; Her stand-up comedy experience! Her innovative fashion lifestyle brand – A Beaut Commute, her years of experience in business, import/export, as well as sales and sales administration. Not to mention her education! Jen holds an Honours Degree, a Diploma and a cert 3 in Fashion Design. As well as a Cert 4 in Business Management.  Jenni is always laughing and leading her students on a romp. Jen is socially responsible and her personal mission is to deliver beautiful, joyful and ethical clothing and accessories to beautiful, joyful and ethical people.
Guru, gardener, & sewing teacher – Haylee
Calming and nurturing, Haylee is our newest sewing teacher to join the fold. When Haylee isn't bringing sewing zen to Thread Den, she teaches yoga, meditation, and indoor gardening, and runs her label Evie Black.