Campaigns to inspire your sewing
I've found several really inspiring campaigns in the last couple of weeks and tried to pop posts about them into the Sewing Journal so that you too can check them out:
Many of us become interested in sewing because we have social and environmental concerns, these challenges are a great way to share the reasons behind why we sew.
Savings to celebrate #MeMadeMay
To encourage you to SEW ALL THE THINGS! and USE ALL THE HASHTAGS! I am going to have #MeMadeMay discounted tickets throughout May on selected workshops, the first one is the A Line Skirt with POCKETS. We have scheduled in an Alterations and Mending workshop to help you with #Haulternative and I'm brewing up some other ideas to celebrate too. Especially around #MakeYourStash, I love encouraging you to use your fabric stashes.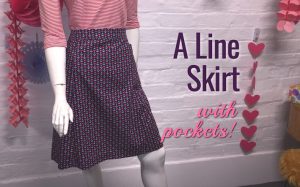 The first workshop to be discounted in May to encourage you to be making more is the A Line Skirt with pockets. 
Usually, this 8 hour workshop is $179, it is now $153 (May course date only & only until sold out). 
This popular skirt is on 12th & 19th May – what a lovely way to spend a couple of Sunday afternoons. You could meet friends for brunch on Brunswick Street before the first workshop or go out for dinner after the second workshop (possibly wearing your skirt!).  You may have made this skirt in a past workshop, we'd love to have you back again so you can now make the updated design – we added pockets in the front side panels.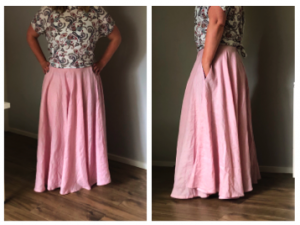 #MakeYourStash inspiration from the linen cupboard
Rebecca's doona day skirt
In our most recent circle skirt workshop, Rebecca had a vision of making a floor length skirt and she found the perfect fabric for her idea – an old linen quilt cover! Soft and drapey, plus oh so big! It was perfect.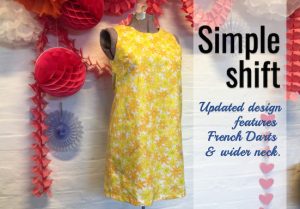 Holy sheet!
The samples for our simple shift dress were made from a vintage bed sheet. When found at a Bendigo op shop, these floral beauties were still in their original packaging – having never been opened. There is so much fabric in a set of flat bedsheets (these were doubles). From one of the pillowcases Danielle made a child's pair of PJ pants. One of the sheets has been more than enough to make the original shift dress sample AND the new shift dress which now has French darts and other design updates. PLUS there is still another full sheet and pillowcase to be bought to life.
xxx
Danielle