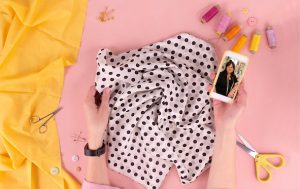 Perhaps you have seen that we are offering private video lessons  and you are wondered how video lessons could work for you?
Here is the start of a lesson plan developed for a student making a pair of pants:
Lesson 1 (60 minutes)

Homework – cutting out pattern pieces and preparing fabric.

Lesson 2 (60 minutes)

folding fabric

placing down pattern pieces


discussing cutting technique and pattern markings
Homework – cutting out fabric

Lesson 3 (60 minutes)

discussing finishing options

how to thread machine


making machine adjustments and stitching remnants to check settings
Homework – finishing identified edges

etc…

This student has sent through the details of their pattern and they'd like 60 minute video lessons held daily.
When would you like to learn?

Depending on how much time you have and how regularly you would like your lessons, they could be: one a day, one a week, or even one in the morning and one in the afternoon to really smash out a project!