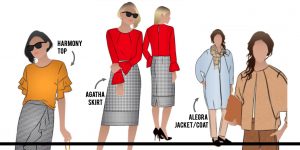 Can we pose a hypothetical situation? 
You catch up with friends for brunch, they notice your gorgeous jacket.

Jane says "Wow I love that jacket! I've been looking for one just like that."

You reply "Guess what?" (without waiting for a response) "I made it!" Then you slip off your jacket and pop it over the back of your chair.

Sally exclaims "OMG!!  That shirt, those sleeves, I love them."

You smile and say "I totally made it too!"

Then you just can't help yourself, you standup and exclaim "AND I MADE MY SKIRT!"
Do you dream of having the patience to plan and make a whole outfit? We are hoping that we can help you with that dream. We have searched through styleARC's beautiful patterns to find a whole outfit that will take you into Spring/Summer2020 in super style!
Over several Sundays we are going to make styleARC's
We chose an outfit that is classic, but still with modern lines and something different to everything you find in the shops.