Learn to sew from the very beginning as we take you through all the basics of sewing. You'll get an understanding of the sewing machine, how to adjust settings, machine sewing techniques and start trouble shooting problems at the machine yourself. You'll get to know what you want in a sewing machine if you haven't yet got one. We'll introduce you to terminology, tools, patterns, fabric selection, cutting technique and achieving professional results.
Class scheduling
Run over three consecutive weeks in three hour weekly workshops. Each workshop runs same day and time each week.
What you will learn
Workshop 1: Threading and setting up your machine, using sewing kit tools, getting familiar with the terminology.

Workshop 2: All about zippers and inserting a centred zip, understanding and using interfacing, the anatomy of fabric.

Workshop 3: Tracing out, cutting technique, sewing at seam allowance, bagging out a lining.
What you get
Detailed handouts at each weekly workshop.

Experienced and friendly teachers to take you through everything from the very beginning.

No need to bring a sewing machine or sewing kit. We have smooth running Janomes (supplied by Statewide Sewing Centres).
What to bring
Your confirmation email will include a list of supplies you'll need, click here to view now.
What you'll be making
Workshop 1: A felt lined fabric wallet perfect for your ipod or myki

Workshop 2: A zippered toiletries case with interfacing

Workshop 3: A fully lined sling bag with boxed out corners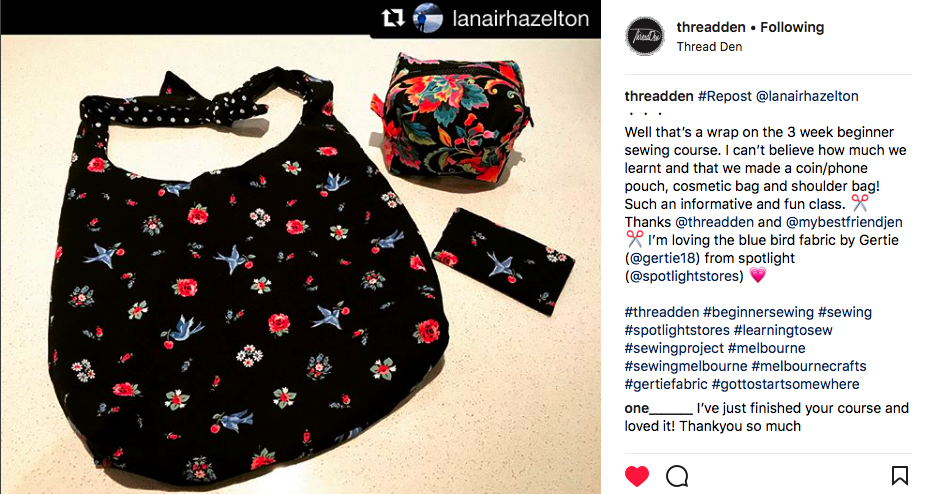 ---