Written by: Justin Lawrence
Do you want to create the perfect sewing room?
A lot of people assume it requires quite a bit of money to build a high-grade sewing room. However, this isn't the case and sometimes even with a smaller budget, it's possible to create an impressive sewing room worthy of praise.
In eight steps, this series is going to illustrate what's required to make sure you create a beautiful sewing room that is going to allow you to sew without trouble.
Even something small is good enough when put together the right way.
If you're ready to create a creative and inspiring sewing space, here's what you need to do.
Are you ready to become a master crafter? Find out about affordable (and fun) sewing lessons today!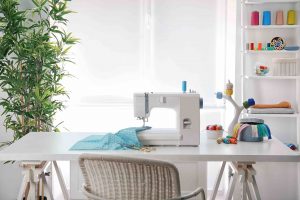 1. Plan the Layout
When it comes to sewing, you want to understand what's required and how you're going to remain efficient during the process. It's not easy to think about everything, even if you are in love with sewing.
You have to plan out the details including the ironing board, sewing desk, cutting table, and how all of these items work together to create the perfect layout for your space.
The ironing board is a good place to begin as it should be put in front of a window. The reason for this is simple, you don't want the room heating up during the warmer months because the iron isn't being aired out.
The amount of condensation created can be quite surprising.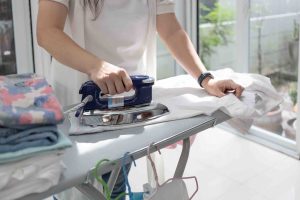 The iron is going to make things intolerable, which is why a window should be nearby, so you can let in the cool breeze from time to time. It's also nice to iron with a window in front of you.
At Thread Den, we put our ironing boards on top of shelving to maximise space and provide a nifty storage spot. 
If the sewing room is being put in the kitchen or dining room then it's important to have the right storage space. Something like a bench with internal storage options should go a long way to get the job done.
On Wednesday pop back when we'll focus on lighting.