Written by: Justin Lawrence
Do you want to create the perfect sewing room?
This is the seventh of eight steps.
8. Use Wall Shelving for the Fabric
The fabric has to be organised the right way and this is where wall shelving comes into the equation. It can be used to position and store the fabric without having it get in the way. A simple 6 inch shelf can help out as it is set up above the cutting table.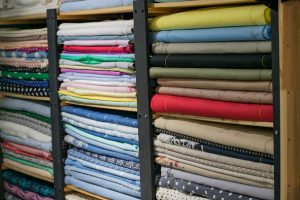 You don't want it to be out of your reach as that makes it tough to move around.
Store everything in clear bins, so you know where everything is.
Clear bins are great. Being able to see your fabric will keep you inspired, encourage you to use it and reduce the risk of buying fabric or habby that you don't need.