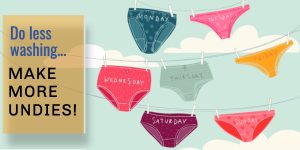 You'll feel fab!
Imagine if you chose fabric to match your favourite bras and made a couple of pairs of complimentary knickers for each one. You could be rocking a matching set every day of the week… Imagine it! So posh!
You could have the nicest knickers on the line. Totally make the housemates and neighbours jealous.
Save $$$
Thought of how much money you could save by buying a metre or so of fabric, a few metres of lingerie elastic and making up a few pairs?
Or recycling an old t shirt into some undies? That awesome band name that you love could be placed proudly across your bum! 
Be comfortable
We've updated this workshop format so that you can bring along other underwear patterns to make in class! Chose the style you like the most.
In the class description we have recommend several great beginner patterns.
PLUS – We'll be running a seperate class for men's boxer briefs as they are quite different. So the boys won't miss out – and if you love wearing the boy's, this will be the class for you (coming soon).
Read the full class description – click here.