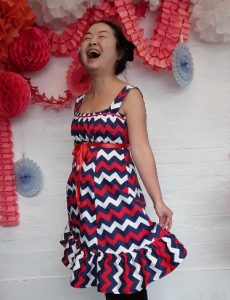 Yifen recently took part in one of the most popular short courses we offer – the two day course: How to Copy a Garment You Love.  
Over a total of 12 hours; students learn how to assess their original garment to draft a pattern off it – without having to pull the original garment apart! The second component of the course is having students make a toile of their pattern so that we can test the pattern that has been created and make any adjustments or corrections to pattern.  This short course is a great introduction to pattern drafting.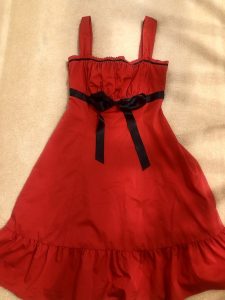 In the August 2019 course, Yifen copied a fun party dress that featured angled seams, ruffles and gathering (no easy feat for the copying process) and we are so proud of her results!  Yifen only learnt to sew this year in our Sewing Basics for Beginners 3 Week Course. She has achieved an amazing result with her copied dress – we love it more than the original! Plus she now has a pattern for her favourite dress and can create many different versions. We hope they all bring her as much joy as the fabulous zig zag version.