Fabrics fall generally in two categories: Knits and Wovens.  In a nutshell your t shirts are made from knits and your button up shirts are made from wovens. 
Woven fabric is produced through weaving two sets of yarn. Examples include button up shirts, trousers, jeans, denim jackets.
Knit fabric is produced by interloping (or knitting) one set of yarn. Examples include leggings, t shirts, sweaters, underwear.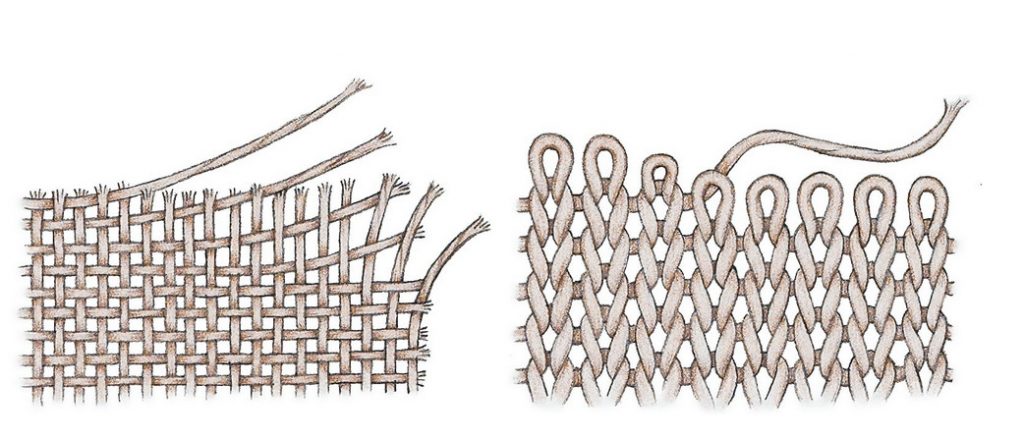 Does it matter?
If you have picked up a pattern and you are keen to whip it up, it is important you choose the correct type of fabric. It should clearly say if it is a knit or stretch pattern – or if it is unsuitable for knits. Some of the reasons why you need to stick to the recommended fabric category are:
A knit fabric will stretch and then return to its original state – this is important to be able to pull it over your head or up over your hips. The stretchiness will enable it to mould to the curves of your body. On the other hand a woven will only stretch if it has a synthetic fibre like nylon in the weave. A woven will allow you to crease it and create pleats and folds.

Your knits won't fray, but wovens do. Therefore, you don't need to finish (eg overlock) the raw edges of your knit fabrics.

To get in and out of woven garments you are usually going to need to insert zips, buttons or some kind of closure. Knits will allow you to stretch the neck or waist to pull them on.
Which one is better?
Both have their benefits. Knits are faster to work with because you don't need to finish seams or insert zips and buttons. But they are trickier to handle; curling up and stretching as you work with them.
You need to use different techniques with each. All those stretch stitches on your sewing machine are necessary when you are sewing with knits. You will also need to change your needle, using a ball point or stretch needle for knits and a universal or sharp needle for wovens.
Examples of Knit Fabrics:
Jersey, ponte, ribbing, sweat shirting fleece, interlock knit, spandex, double knit, polar fleece.
Examples of Woven Fabrics:
Broadcloth, denim, drill, poplin, cotton sateen, flannelette, lawn, corduroy.