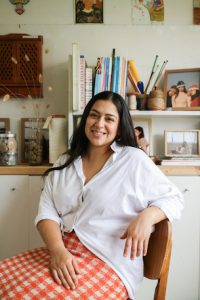 We have a new teacher to introduce!
With Lorena joining the team we already have two new workshops for you, with more in the pipeline.
Lorena specialises in knitted constructed textiles, her knitwear line Lore Lore produces all things from homewares to wearable accessories and fully-fashioned garments. Lorena's creative inspiration comes from living in South America and Asia, incorporating those vibrant cultures and the people encountered along the way. 
Knitting Machine Basics
In this 6 hour Knitting Machine Workshop students will learn to use the machine and make a beanie.  Knitting machines provided!
"This hands-on project will get you straight onto a machine experimenting with a few key techniques to get you started on your own beanie creation. By the end of the workshop you'll be returning home with your very own Pom Pom beanie crafted by you!"  – read more.
Alternative Hand Knitting
In this 3 hour Knitting Workshop students will learn to hand knit a jute market bag using chunky techniques and huge needles.
No experience necessary, join Lorena and make your own market bag – read more.